Train Locally and Predict in Exasol
This section describes how you can train your data locally and predict in Exasol. Start by loading the Boston Housing dataset in R. The dataset is available through the mlbench package.
After loading the data in your environment, make a split for training and testing sets. There are many methods to it, one of them is to randomly generate indexes that will subset rows from the main set.
The ratio of the split is arbitrary and depends on available data and application. In this case, keep around 75% of the data for training and the remaining 25% for testing purpose.
Now you can train a basic random forest model on our data and see which variables contribute the most to predicting the median house value.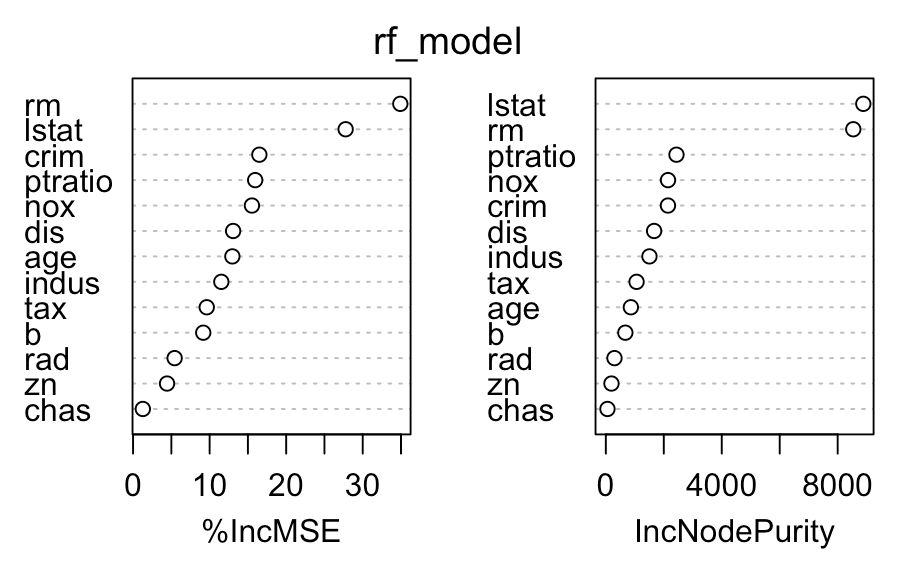 Send model to BucketFS
UDF scripts are executed in parallel on the Exasol cluster and in this case for the prediction such script needs to have access to the model we just trained. It's possible to use any file service, however when considering performance, it is more efficient to have a storage space in the local cluster nodes.
Keep in mind that the Exasol database cluster stores only tables and you cannot upload our model in there.
Exasol BucketFS file system has been developed for such use cases, where data should be stored synchronously and replicated across the cluster. This concept can be used to extend script languages and even to install completely new script languages on the Exasol cluster. For more information, see Adding New Packages to Existing Script Languages.
Files can be sent and retrieved from BucketFS in the following ways:
Using packages that allow HTTP communication in R (httr or RCurl)
Using curl commands (not covered here)
With the first method we will use the RCurl package. It is important to note that the model which lives in our R environment now has to be serialized (converted into raw text). When we want to retrieve it we can unserialize it and return it to its original file type. See ?serialize for more information.
If the size of you model increases, you can use the Strip package that allows you to reduce the memory footprint of your models.
Send data to Exasol
To run the prediction in Exasol you need to transfer the data into the database. To know how to write and read data into Exasol, see Write Data and Read Data.
Through an SQL client, you can see the data that is transferred to the database with the corresponding schema.
Make prediction using UDF
You are now ready to use the algorithm which is in BucketFS to run a prediction on the data that's in Exasol. For this, you can create a UDF using the exa.createScript function.
You can also plot your predicted values and see the output: