ALTER USER
Purpose
Use this statement to alter the user's authentication details.
Prerequisites
If password authentication is set, then a user can always change its own password.
To set a new password for other users or define the Kerberos/LDAP/OpenID authentication you need to have the system privilege ALTER USER.
Syntax
alter_user::=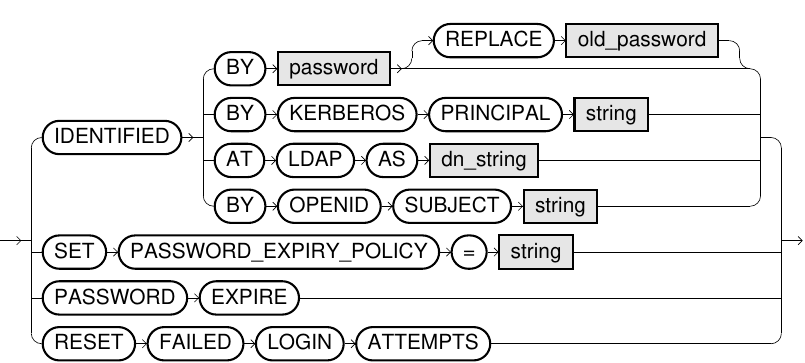 Usage Notes
If you have the system privilege ALTER USER the REPLACE clause is optional and the old password is not verified.
For security reasons, the old password must also be specified if a user wishes to change their own password (unless the user has the system privilege ALTER USER).
Passwords are treated as SQL identifiers and are governed by the same rules regarding allowed characters, case sensitivity, etc. For more information, see SQL Identifier.
For details about the expected string values for the PASSWORD_EXPIRY_POLICY parameter, see Password Expiry Policy.
For information on Kerberos/LDAP/OpenID authentication and the rules for password creation, see CREATE USER.
Examples